Noticing since 2009, more users are accessing the internet via mobile devices or tablets than accessing the internet via laptops or desktops. This proportion of mobile users is increasing year by year. The reason may be because using mobile for web browsing is more convenient than using a conventional computer or laptop.
As per the data gathered by StatCounter, in October 2016, 51.3% of all internet visits, recorded from smart phones and tablets compared to 48.7% of internet visits from laptops and computers.
We can break the percentage usage by mobile devices to know how much data has been accessed from smart phones and tablets separately. While considering them individually, we got to know that 46.53% of traffic was generated by smart phones and 4.73% was generated by tablets. In simple words, we can say that internet access is on the edge of being acquired by smartphones completely.
The above graph shows, internet accessed via mobile devices as well as via laptops/desktops. This clearly shows that after October 2016, mobile users got amplified measurably.
Maximum users around the globe are going to prefer a mobile-oriented world; the charts above indicate clearly that mobile users are increasing faster than anyone had assumed or expected. It is quite impressive that how smart phones have acquired this whole internet-world.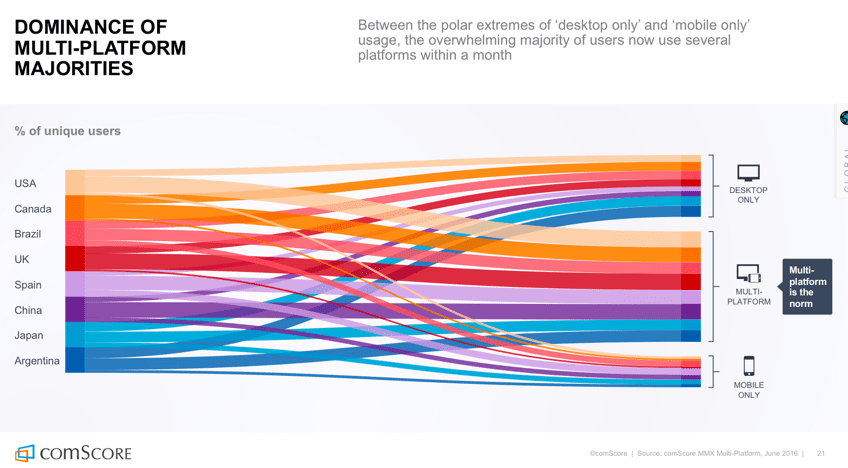 This meaningful visual representation from comScore represents better the internet access via multi-platform. This collected data indicates that the majority of users are multiplatform and will be performing multi-screening most of the time by accessing sites on mobile or desktop (as per the convenience). As usage of mobiles is growing, this data from 2015 by Adobe's latest Digital Index indicates the industries that were getting traffic via desktops instead of mobiles.
PROJECTED MOBILE USERS BY YEAR 2020
In future also, the rate of smartphone usage will be increasing year by year. The growth in the number of mobile users will also get faster than the usage of feature phones. By the end of 2017, mobile phone users will definitely exceed feature phone users. Smartphones acceptance in developing countries like India, Turkey, Indonesia, Vietnam, Mexico, Brazil, Nigeria, Peru, South Africa and Philippines will be increased by the introduction of some nominal priced smartphones.
Internet as well as mobile industry have seen considerable growth in whether be distribution or consumption in some past months. By analyzing the related graphs and charts listed, we can get to know the continuous increase in the adoption level of smartphones around the globe.